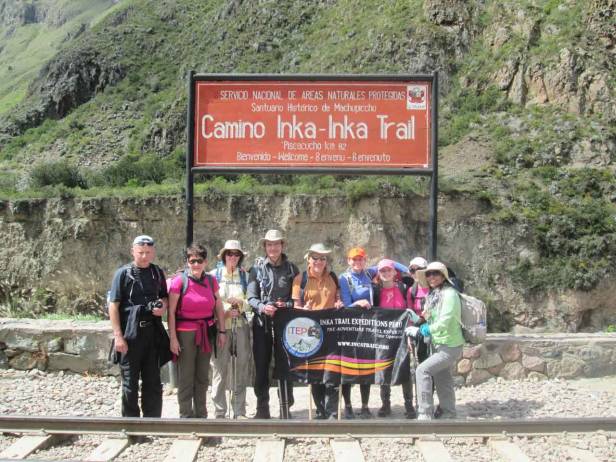 Hiking the
Inca Trail to Machupicchu
in Peru is South America's greatest trekking adventures. And ranked as one of the three best treks of the world.
The trail starts at an altitude of about 2,800 masl from Km 82/Piscacucho and traverses the Andes, crossing exciting sites like Dead Woman's Pass which, at 4,200 meters high, is the peak point of the trek. A few other impressive Inca sites are waiting for you such as Wiñayhuayna or "Forever Young" before descending towards the always fascinating Machu Picchu (2,450 m).
It takes four days to reach the legendary Inca city and, with the exception of the
Dead Woman's Pass
, getting to
Machu Picchu
is not too demanding.
The
Inca Trail
is rightly famous for its spectacular Andean scenery, full of snow-capped mountains between June and October, as well as the captivating Inca ruins you could meet along the way.
The history of Peru is brought to life by our professional tour guides as we walk in the footsteps of the Incas in the company of their modern day descendants, our porters from the Sacred Valley.
ITEP Eco Travel
offers you different trekking options on the
Inca Trail
, so you can combine this adventure along some other highlights from this fantastic country. And as always, all the different travelling ingredients on this tour have been precociously selected by specialists of voyaging so you just have to enjoy the wonderful landscapes while hiking to
Machu Picchu
.

ITINERARY
DAY 1
6:30 a.m.
Bus till Km 82/Piscacucho.
10:00 a.m. to 4:30 p.m.
Hike to Machu Picchu.
Piscacucho – Wayllabamba
DAY 2
8:00 a.m. to 4:00 p.m.
Machu Picchu hike Tour:
Wayllabamba – Llulluchapampa – Pacaymayu
DAY 3
8:00 a.m. to 4:00 p.m.
Hiking to Machu Picchu
Pacaymayu – Phuyupatamarca – Winayhuayna
DAY 4
4:30 a.m. to 8:00 p.m.
Hike to Machu Picchu
Winayhuayna – Machu Picchu
8:00 a.m. to 4:00 p.m.
Tour to Machu Picchu:
Guided tour
Free Afternoon
Return by train to Ollantaytambo and bus to Cusco.
Optional: visit of the Hot Springs in Machupicchu Pueblo
INCLUDE
Transfers In / Out
Transportation from Cusco till Km. 82/Piscacucho where we start hike the Inca Trail.
Professional bilingual tour guide
Assistant tour guide (for groups of 9 or more people)
Entrance fee to Inca Trail and Machu Picchu
3 breakfasts, 3 lunches, 3 afternoon snacks, 3 dinners and various snacks to be eaten throughout the day; the first breakfast and every meals after the breakfast on day 4 are not included.
Professional cook: all our fresh vegetables are washed in iodine water prior to serving and we provide only boiled, filtered or iodized water for drinking. Vegetarian food on request at no extra cost! All dietary requirements from vegans, lacto-allergies and general dislikes can be catered for so long as prior warning is given when booking the trip
Dining tent with tables and chairs
First aid kit
1 oxygen tank
Porters (carrying the food and cooking equipment)
Quadruple & waterproof camping tent (cap. 4 fitting 2).
1 sleeping mattress per person.
Touristic bus from Machu Picchu to Aguas Calientes.
Expedition train ticket from Aguas Calientes to Ollantaytambo
Transfer from Ollantaytambo train station to your hotel in Cusco